Regular price
$49.99 USD
Sale price
$29.99 USD
Unit price
per
Sale
Sold out
Keep Your Space Tidy with the Ultimate Litter Mat
Are you tired of having litter all over the place? If "YES", Say goodbye to tracking litter all around your home. Our Litter Mat is designed to make your life easier and your cat's space cleaner.
The innovative double-layer honeycomb design ensures that litter is collected effectively, so you no longer have to deal with those annoying bits on your floors.

Effortless Cleaning and Recycling
Cleaning up after your furry friend is now a breeze. Simply lift the mat and watch as all the trapped litter falls through, ready to be dumped back into the litter box. It's a recycling solution that saves you time and keeps your space tidy. This mat is truly a game-changer - no more litter stuck to your feet on a daily basis!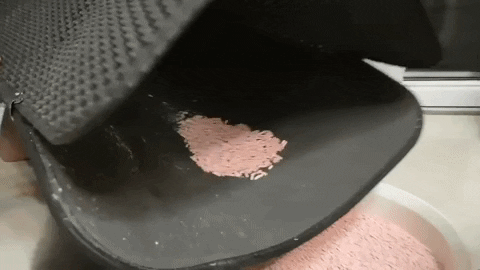 Easy-Clean and Washable
Gone are the days of struggling to clean your mat. Our litter mat is made of soft, durable, and washable EVA material. Unlike mesh mats that can leave lingering dirt, our mat is easy to clean and maintain. Save time and effort while enjoying a cleaner home environment.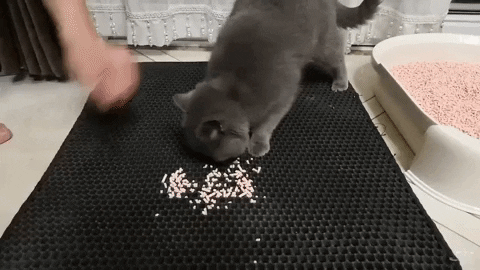 Available in three sizes: 'S', 'M' and 'L', allowing you to choose the ideal size for your furry companion. 
Small (S):
Dimensions: 30x30cm
Ideal for Kittens, Small Breeds like Siamese, and Petite Cats 

and much more.
Medium (M):
Dimensions: 40x50cm
Perfect for Cats like Ragdolls, British Shorthairs, and American Shorthairs 

and much more.
Large (L):
Dimensions: 55x75cm
Tailored for Larger Cats such as Maine Coons, Norwegian Forest Cats, and Siberians 

and much more.
Waterproof and Urine Proof
Accidents happen, but they don't have to leave a mess behind. The waterproof and slip-resistant bottom layer of our mat ensures that no liquid will seep through onto your floors. Even if your cat vomits, you can easily hose off the mat and it will be clean and dry. Protect your precious hardwood floors and carpets from unsightly urine stains.

Comfort for Your Cat, Peace of Mind for You
Our mat is not only functional but also comfortable for your cat's sensitive paws. The soft EVA material ensures a gentle touch, and your cat might even enjoy stepping or lounging on it. The double layers effectively trap litter, making it easy to shake the mat and release the collected litter with ease.
Durable for Long-Term Use
We understand that cats can be tough on their surroundings. That's why our mat is constructed from hard and durable materials, built to withstand scratching and heavy use. We take pride in providing you with a cat litter mat that's tough and built to last.

Upgrade your cat's space with a mat that revolutionizes litter management. Experience the joy of a cleaner home and a happier cat. Choose quality, choose ease, choose the Anti Tracking EZ Open Edge Litter Mat.
Here's What Other Cat Owners Had To Say!
You need this in your life 
This litter mat is a godsend. The second worst thing to stepping on legos is stepping in kitty litter. Its gross and sticks to your feet. This mat cures you of that problem. It is big enough that even after kitty takes a few steps his feet are all cleaned of litter and you are not cleaning litter off your feet.
Jasmine Lock 
⭐⭐⭐⭐⭐(Highly Recommend)
Absolutely does what it says it will
This mat is the perfect size for my kitten's litter box, she would leave so much litter on the floor that I would need to vacuum multiple times daily. This mat catches all of the little litter crumbs 😊. I believe the litter box helps some too, but this mat is definitely the icing on the cake! I definitely recommend it.
Michael 
⭐⭐⭐⭐⭐(Highly Recommend)
View full details
Pleasant surprise by the large size of this carpet
Excellent mat. hardly any cat litter is tracked beyond